...
Marines Taking Care of Kids, Inc. (MTCK)

MTCK is a non-profit [501c3] organization and was established in 2009 for the purpose of:
providing a permanent home/building for the Marine Corps Reserve Toys for Tots program of Genesee County, Flint, Michigan.

MTCK operates 100% with community volunteers and donations.

What Organizations Do We Work With?

Old Newsboys - Genesee County

Salvation Army - Genesee County

Grand Rapids Home for Veterans

Fire Victims (personal/household items)

Local Churches (all faiths)

My Heart Supports the Troops (military support group)

Tax Deductible DONATIONS can be mailed to:

Marines Taking Care of Kids, Inc.
4425 S.. Saginaw Street
Flint Michigan 48507

Ways you can help us!

Sponsor Fundraisers
Monetary donations
Help with our building maintenance
Share your ideas with us or
Ask us for ours (we have plenty)

Thank ALL of you for helping with our Henry Plus Raffle
Tickets were drawn on Wednesday November 1, 2023 just after 2:00 PM.
At the Burton, Michigan VFW Post #2777

Marines Taking Care of Kids & My Heart Supports the Troops
would like to thank everyone who bought tickets to the 2023 Henry Rifle Raffle!
The winning tickets were drawn today, and all 4 winners have been notified.
The winning numbers are 1st prize [.44 Henry Rifle] #2390,
2nd prize [.45/70 Henry Rifle] #1438
3rd prize [.410 "Axe" Shotgun] #2350.
4th prize [A large wooden American Flag & Custom Knife] #1779


Congratulations to all of them!!!!!

This is our next raffle - as you can see, we again have 4 great prizes............
We will be setting up at many functions [gun shows & such]...
You can find out where we are by checking the Events 2023 page [2024 page soon] for MHSTT [My Heart Supports the Troops]. § Here §

Ways we can assist you!

We can help you get service hours for your organization or for yourself.
We assist victims of fire with gently used items.
We can direct you to the proper agency if we do not have what you need.

Do you need/want a great Disk Jockey??? These folks are VERY good!!!!.


~ Featured Member ~


Mr. Andy Cervini Sr.

Served in the 6th Marine Division WWII
6th & 1st Marine Divisions in China
1st Marine Division in Korea
[Chosen Reservoir Survivor]
Past Commandant Marine Corps League
Past Detachment Commandant MC League
Past Legislative Director Dept. of Michigan
Presently serving on the National Veterans Legislative Committee
E.D.S. - Retired


MTCK exists to help underprivileged children and to enhance the probability
they will have good productive lives and become an asset to their families and our community.

MTCK also helps to support and facilitates for, other non-profit groups in the area.

MTCK operates 100% with community volunteers, donations and veteran groups.

Our Mailing Address:
Marines Taking Care of Kids
4425 S. Saginaw St.
Flint, Michigan
When do we meet?

With the exception of November & December,
Meetings are held on the 2nd Wednesday
Of each month at 10:00AM
~ Meetings are always open to the public ~
January & February we hold the meeting at the Burton VFW.

Where are we Located?

Our meetings are normally held at:

The former Fisher Body (581) Union Hall
4425 S. Saginaw St.
Flint, Mi.
Parking is next to the building
[Access via Alley, one block off Saginaw]

Feel free to E-Mail us mtck4425@yahoo.com

Phone: (810) 715-4401

Fax: (810) 715-4402

~ Some of our sponsoring organizations ~

MTCK Board Members

President
Mike Reynolds
UAW 598 – Retired
Toys for Tots Volunteer since 1982

Vice President
Monica Mansfield
AutoZone - Retired
Toys for Tots Volunteer since 2012

Secretary / Office Manager
Diane Moore
UAW 651 - Retired
Toys for Tots Volunteer since 1988

Treasurer
Vicky Muckenthaler
GM SPO WHQ Retired
Toys for Tots Volunteer since 2009

Trustees
Marilyn Hanson
Donald MacMillan

Building Manager
Mike Reynolds

Member-at-Large
Gary Burns



If you need to contact the Toys 4 Tots organization of Genesee County, Michigan...
Call Coordinator: Vicky Muckenthaler at: (810) 715-4401
The Fax Number is :(810) 715-4402

Also feel free to directly E-mail them Here to inquire.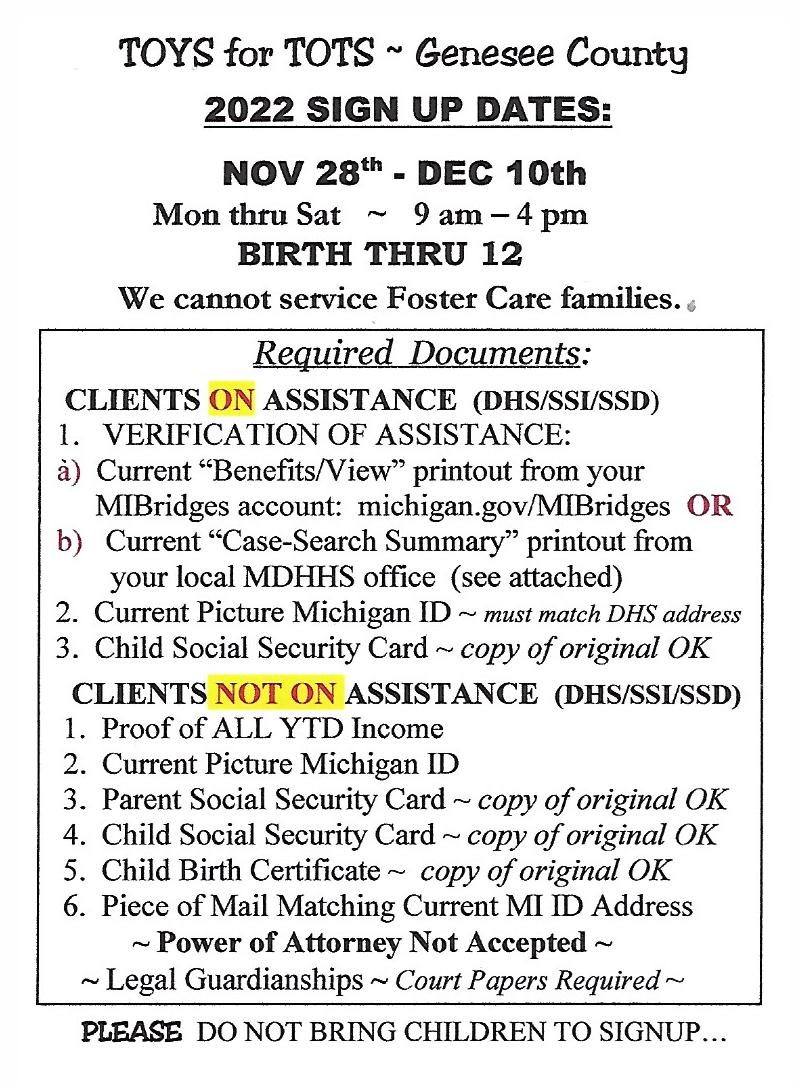 Hours and Days are subject to change [Weather and unexpected circumstances]...

Thank you, in advance, for all of your support.


You are visitor number

The Fine Print ( see "disclaimer" in the Dictionary ). Some of the graphics on this site came from the Web.
NONE of the pictures nor the Logo graphic [MTCK] above may be copied or used in any way without written permission.
Contact us Here to inquire.
© Copyrighted every year since 2014, including this one. ALL rights reserved.

Last Updated: Wednesday November 2, 2022 [About Fifteen Hundred (3:00 PM for you civilians)]



Got a question about this Web Site, E-Mail Me here: Webmaster Donald J. MacMillan
This site is being hosted by the My Heart Supports the Troops Military Support Group § MHSTT §
Ali Web
Military Gallery & Search Pages
All-in-one-Search Page
W3 Search Engines
Snap
Altavista
Excite
Lycos
Yahoo
Goto
Northernlight
Hotbot
Google
Webcrawler
Search msn
Askjeeves
AAA Matilda
Ali web
AOL Net Find
Einet Galaxy
All the web
Infoseek
Infospace
Jayde Online
Link Monster
MetaCrawler
Planet Search
Starting Point
What U Seek